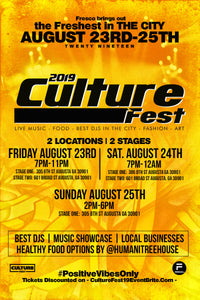 CULTURE FEST OF AUGUSTA 2019
The Culture Fest Family invites you to share in creativity during the 3rd annual Culture Fest of Augusta!
Culture Fest 2019 (August 23-25) welcomes positive vibes and open minds to a shared space recognizing the connectivity of business, arts and culture, and technology with a sense of community to showcase the amazing life, opportunity, and beauty that The City of Augusta, the CSRA, and all surrounding areas have to share. Highlighting Music, Photography and Visual Art, Fashion, Cinematography, and the cross-collaboration of all manner of creative expression and businesses local to the area, we aim to optimize support for the people moving and growing at the intersection of creativity, culture, and innovation in OUR CITY! 
This year, Culture Fest highlights some of the area's best DJs, local business, and delicious foods with two performance spaces that are navigable by foot.
We look forward to presenting this and more community events with the continued support of businesses, organizations, and individuals who have become part of the Festival family through sponsorship and philanthropic support.  
With partnership, participation, and collaboration, we can do so many amazing things!  Can we count on you?
 We strive to bring our sponsors value through promotion, visibility and marketing opportunities. A sponsorship with the Culture Fest of Augusta is is an excellent way to promote your business or organization to our audience while supporting key facets of our vibrant local arts community.
Looking forward to speaking with you and working to support your visions and goals,
Libra Miller 
Executive Director, Culture Fest of Augusta
For Tickets: https://www.eventbrite.com/e/culture-fest-19-tickets-62281417396
---